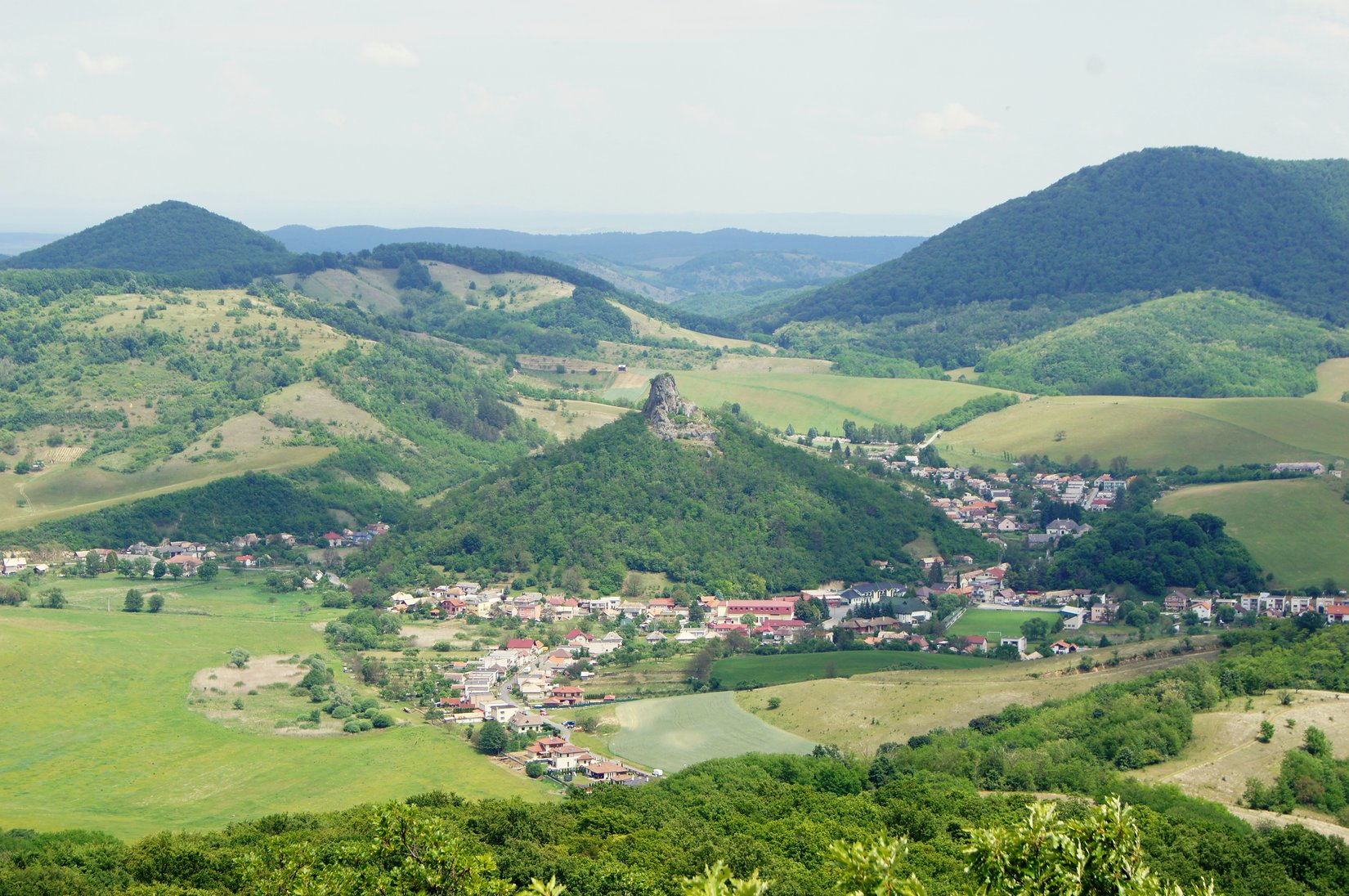 REGION OF PREHISTORIC VOLUME, ROCK STEPPES, TABLE MOUNTAINS AND STONE SEA

Do you want to transfer with a little imagination to times long past, when lava was pouring and ashes were pouring?
When wandering the Cerová Highlands you will sneer at such witnesses of the past at every turn. Volcanic cones or remnants of lava flows - "Cerovka" is literally a large geological open-air museum.
Hajnáčka and its surroundings are among the most attractive destinations in the Gemer part of the Cerová Highlands. Directly above the village rises a rocky hill of volcanic origin, which hides the remains of a castle from the 13th century.
An abandoned quarry above the village is often described as the most important Carpathian deposit of blue gems (sapphires) in the basalt.
The nearby Kostná dolina is a rare find of bones of tapirs, mastodons and other animals living in the Quaternary. Remains of many hitherto unknown species have also been found here. The patriotic exposition in the Gemersko-malohontské museum specializes in the site as well as in the Cerová Highlands.
In the part of the village of Šťavica you will find an untraditional spring of mineral water in a nicely landscaped area. There used to be a spa here.
Popular tourist destinations in the vicinity of Hajnáčka are volcanic peaks:
Ragáč, the second youngest volcano in Slovakia
Stem rock, whose shape resembles the whistles of church organs
Pohanský Castle, a table mountain hiding the remains of a stone wall of ancient Celts and a rock town with more than 30 pseudo-karst caves, which were once inhabited by our prehistoric ancestors.
🚶‍♂‍🚶‍♀‍ There are 9 tourist marked trails, 4 educational trails and 3 educational localities in the whole which pass through the most attractive parts of the territory.
Fishermen and tourists alike will enjoy themselves in the quiet bays of the Petrovce reservoir near Gemerský Jablonec, or by the pond in the village of Tachty. Here, on Tomášov Hill, just 1 km from the Hungarian border, there is a lookout tower, from which, in good weather, the King's Hill, which is up to 80 kilometers away, can be seen.
More information and tips:
https://regiongemer.sk/objavuj/place/chko-cerova-vrchovina/
http://chkocerovavrchovina.sopsr.sk/
Contact